As part of the UCSF Stephen and Nancy Grand Multiple Myeloma Translational Initiative, one of our goals is to develop and evaluate novel therapeutic strategies for this disease. We aim to develop these strategies from hypotheses developed in our lab as well as via collaborations with others in academia and industry. Our goal is to advance these theapeutics into clinical trials to provide new options for myeloma patients.
For example, we recently used a combination of quantitative phosphoproteomics, alternative splicing analysis of RNA-seq (in collaboration with Angela Brooks at UC Santa Cruz), and bioinformatics to show that carfilzomib modulates the splicing machinery and the spliceosome represents a unique therapeutic vulnerability in myeloma (Huang et al, Nature Communications (2020); see Figure).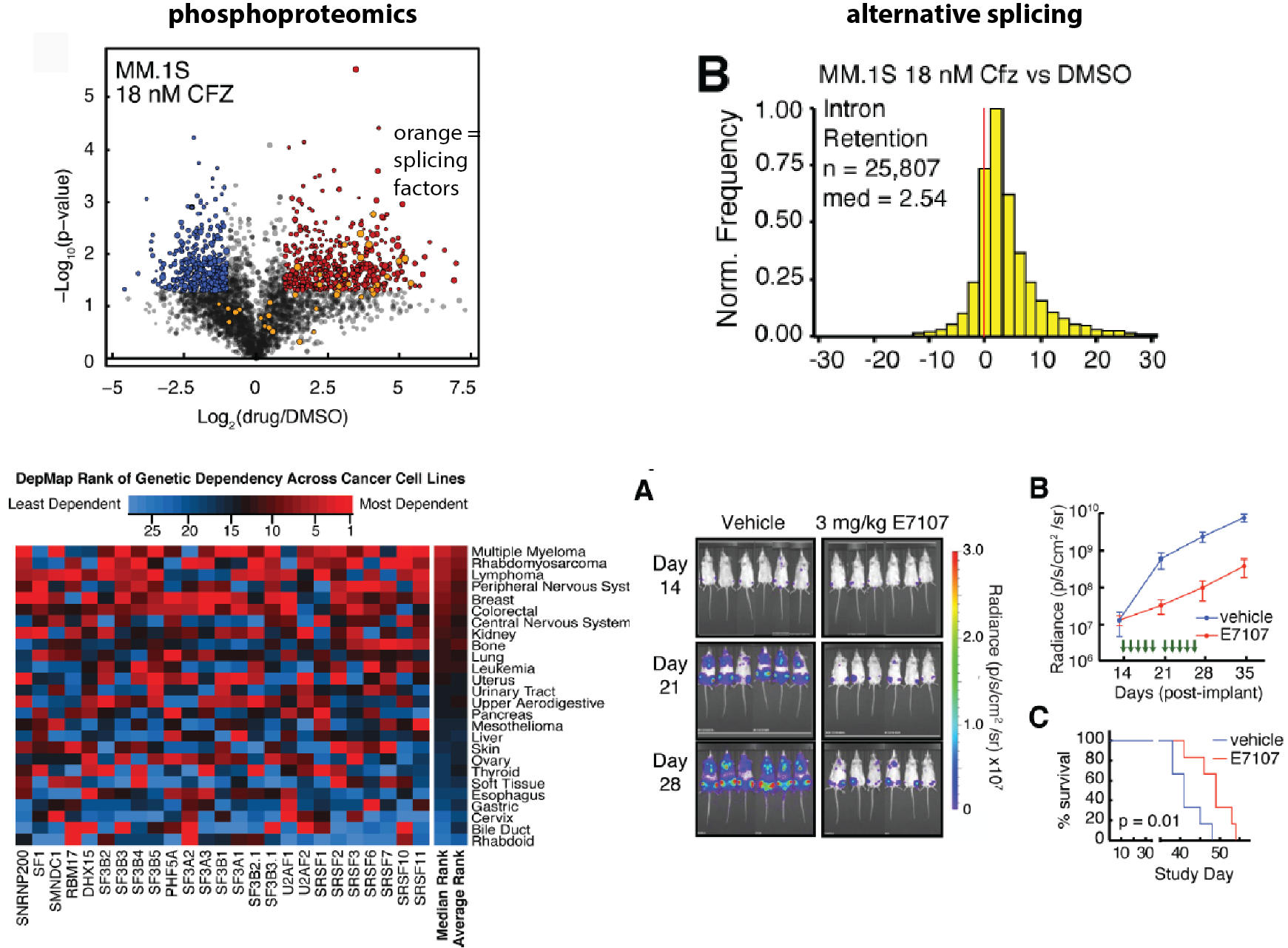 In collaboration with Casey Greene at UPenn and Larry Boise at Emory, we have also recently used quantitative phosphoproteomic profiling and machine learning approaches applied to publicly-available RNA-seq data to suggest new strategies by which to employ kinase inhibitors in myeloma trials (Lin et al, Blood Adv 2019).
In collaboration with biotechnology companies Sutro Biopharma and TeneoBio, we have also preclinically evaluated novel immunotherapies targeting the cell surface markers CD74 (Abrahams et al, Oncotarget (2018)) and BCMA (Force Aldred et al, mAbs (2019)). These molecules have now proceeded into Phase I clinical trials led by UCSF MMTI physicians.